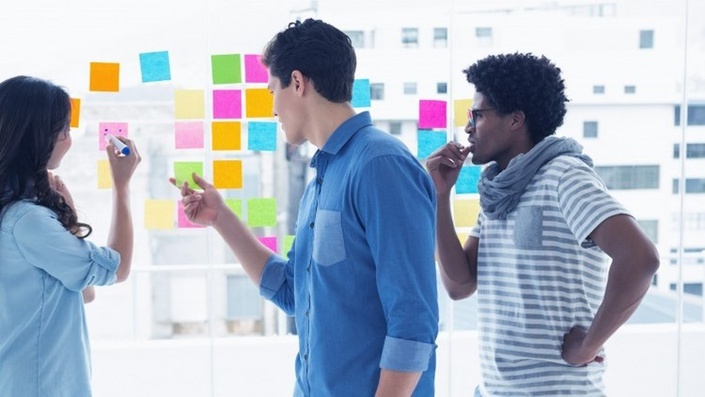 Scrum Master + Agile Certification Prep
Comprehensive guide to Scrum Master Certification
Watch Promo
Professional Scrum™, Professional Scrum Master, PSM, PSM I, Professional Scrum Product Owner, PSPO, PSPO I, Scrum Open, etc. is the protected brand of Scrum .org . Our course and practice exams are neither endorsed by nor affiliated with Scrum .org

Do you want to be a professional scrum master who competently implements Scrum in everyday teamwork? iCertify's comprehensive certification training course covers the principles and (empirical) process theory underpinning the Scrum framework and ensures the participants learn what is at the core of the Scrum and Agile movement.

This course is taught by a Registered Education Provider:
iCertify Training NYC, Registered A.T.P (Authorized Training Partner) #65461
Get access to the latest Scrum Body of Knowledge and Scrum Guide
Access Membership

Case Studies, Reference Materials and Study guides on Scrum Master
Earn valuable PMI® PDUs while you Master Scrum and Agile
Heavily discounted certification vouchers for Scrum and Agile courses
_________________________________
The Course has passed a quality audit and a business review, and prepares you for multiple Scrum Master Certifications:
►Certified Scrum Master (CSM®)
►Scrum Master Certification (SMC™)
►Scaled Scrum Master Certified (SSMC™)
_________________________________
Latest student testimonials:
Jeanette Sanders (Risk Manager) "This was terrific course with tons of training aids, games, slides, videos etc. The trainer was very much in tune with the participants and was very adaptive and agile with his approach to the class."
Lishan Mou (Technical Program Manager) "Loved it ! Trainer was enthusiastic and engaging as an instructor. He shared real world experiences and went beyond the course material. The style and the manner in which he presented really helped us to make scrum methodologies understandable and captured the true essence of it."
Amanda ST. Laurent (Development Manager) "The core concepts gave me the ability to see how I could incorporate scrum into our leach culture. The integration of technology has always been a challenge. However, now I could see the capabilities of integration with owners and our development team with scrum."
Jiyeon Hwang (Project Manager) "It was a very useful class where they helped us analyze our own situations while integrating these examples into the course material. I read a lot about scrum practices before taking this course but I learned new things from examples and exercises discussed in the class"
_________________________________
There are more than a dozen reasons to consider our Certification Course:
Biggest accreditation body for Scrum and Agile certifications: Google Trends and LinkedIn show that SCRUM is the most sought after accredited for professionals
Students from 7,500+ companies in 150+ countries: iCertify has trained/certified more than 325,000 persons in delivering successful projects. More than 5,000 students are certified by us each month which is more than any other certification body.
Based on Scrum Body of Knowledge: All exams are based on a standard guide to the Scrum Body of Knowledge and the latest Scrum Guide. The propagation of Scrum is easier because all Scrum practitioners speak the same common language.
Industry-wide acceptance: The knowledge gained by getting a Scrum certification is universal in its application and has been applied by organizations in diverse projects spanning an eclectic mix of industries.
Scalable Scrum: Scrum certifications and courses enable delegates to scale Scrum to the Portfolio and Program levels and not just product design and project management. Each of the aspects of Product Development such as Business Justification, Quality, Cost, Risk, and Time are explained not just in the Project level but also on a Portfolio and Program level, since this is the way organizations work.
Established name in Scrum/Agile certifications: The certification training is provided through its Authorized Training Partners (A.T.P.s) all across the globe. Our certifications are widely reputed and accepted by various Fortune 500 companies such as Apple, IBM, HP, Bank of America, AT&T, Dell, Verizon, Lockheed Martin, and PepsiCo.
Active Discussions to share and learn: We engages the Scrum/Agile community through active discussions on LinkedIn, Twitter, Facebook, Google Plus, multiple Discussion Forums and Blogs.
Multiple free resources for Scrum & Agile Community: We provides a wide range of free resources such as 5+ hours of high quality videos, useful case studies, interactive mobile apps, blogs, and articles, thereby contributing to the increased awareness of Scrum in the Scrum and Agile communities.
Scrum Fundamentals Certified- SFC Course: The Scrum Fundamentals Certified (SFC) Course, not only introduces Scrum concepts to professionals but also helps them get an introductory certification.
Credible and standard testing environment: With an emphasis on providing candidates with a reliable and credible testing environment, we conduct our certification exams using our live online proctoring system unlike other certifying bodies. This allows you to take your certification exams from the comfort of your home. All exams will be proctored live and videos of the exams will be recorded and reviewed by our assessment team.
Teaching methodology: As a A.T.P.s we use a scientifically proven and highly interactive teaching methodology including role-plays, case studies, and simulations explaining the key Scrum concepts for their Agile and Scrum certification courses.
Experienced SCRUM trainers: Any person who is qualified as a Scrum Certified Trainer (SCT™) undergoes a rigorous assessment process and he or she has to exhibit proficiency in the concepts of Scrum and Agile. Moreover, all feedback from students about their respective trainers is reviewed and all SCRUM trainers regularly participate in "Train-the-Trainer" sessions, which help them understand the nuances of our certifications and further cement their understanding of the Scrum Framework and Agile Philosophy.
_________________________________
About the Professional Scrum Master (PSM) certification:
The Professional Scrum Master™ level I (PSM I) assessment is available to anyone who wishes to validate his or her depth of knowledge of the Scrum framework and its application. Those who pass the assessment will receive the industry recognized PSM I Certification to demonstrate their mastery of the content.
Prepare for the Assessment
The PSM assessments are grounded in the Professional Scrum Master subject areas. The assessment is exhaustive and rigorous. Many questions ask you to think about or interpret the meaning from the Scrum Guide, apply content from professional experience.
Course Curriculum
Introduction to Agile
Available in days
days after you enroll
Introduction to Scrum
Available in days
days after you enroll
Frequently Asked Questions
What will students learn in your course?
- Develop a professional working knowledge as a Scrum Master and lead projects - Get Professional Scrum Certified - Access heavily discounted examination voucher for Scrum Master Certification - Download 400+ pager Industry reference to Scrum Body of Knowledge guide - Overview on all the Scrum Core and Non-Core roles (Pigs and Chicken) - Executing scaled scrums across Fortune 500 companies- SoS meetings
Are there any course requirements or prerequisites?
There are no-requisites. This certification course is comprehensive and designed to bring up you to pace from ground zero to become a certified Professional Scrum Master (PSM™)
Who are your target students?
- Professionals from industries such as Information Technology, Banking & Financial Services, Manufacturing, Healthcare, Retail Distribution, & Education - Functional experts from Operations, Quality, Business Excellence, Customer Service, Finance, Engineering, Sales Operations & HR - Final year MBA/Engineering students who wish to differentiate themselves in Job Market - Directors, quality managers, and supervisors who are interested in leadership opportunities.
The Professional Scrum Master™ level I (PSM I) assessment is an Industry standard certification that validates your knowledge of the Scrum framework.

As part of this course, you also get access to our
1) The Scrum Master Training Manual
2) 20+ Video Tutorial
3) 100+ realistic sample Questions